While space travel is not readily available to the masses yet, a
semblance of that will be recreated in a destination notorious for
having one of the most austere weather conditions on the planet —
Antarctica.
Pioneers of luxury travel in Antarctica, White Desert, has announced
the launch of their third camp, Echo, set to open this November. As the
first travel operator in the world to fly guests via private jet to this
remote corner of the globe, one can expect more ground-breaking
innovations out of their new venture.
Echo is slated to be a futuristic eco-friendly camp featuring just
six heated space-inspired 'sky pods', equipped with ensuite toilets and
floor to ceiling windows offering sweeping vistas of the snow-capped
mountains and the vast icy terrain stretching into the horizon. The camp
will also offer a central lounge area, dining and heated shower pods.
Each of the space-inspired sky pods sleeps two guests. Photo Credit: White Desert
The sky pods, inspired by space modules, are made of composite
fibreglass and feature retro space-age detailing furnishings, with its
white curved walls decked out with original photos taken from the
International Space Station by former commander, White Desert guest and
retired astronaut, Colonel Terry Virts.
"The mountains are the most beautiful I have seen across Earth, Venus
and Mars," said Virts who previously visited the Echo site with White
Desert.
With the exclusivity and scarcity of Antarctica trips, the five-day
tour doesn't come cheap. Prices start from US$65,000 for a single
traveller or US$780,000 for a private group of 12. However, beyond
having bragging rights from embarking on one of the most remarkable and
memorable trips of a lifetime, guests will also be advertently
contributing to a good cause as White Desert will contribute US$1,000
per traveller for conservation, community and sustainability
initiatives.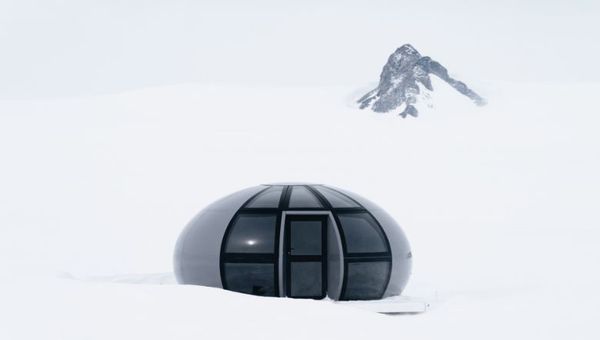 As with all their camps, White Desert has designed Echo to be dismantled without a trace, leaving no more than a transitory impact on Antarctica. Photo Credit: White Desert
This all-inclusive package will kick off in Cape Town where guests
will take a five-hour private jet flight to Antarctica. Upon arrival at
camp Echo, guests will be escorted to a private lounge to enjoy a
martini, concocted with 10,000-year-old ice. Over the next five days,
guests can partake in activities such as fat biking, skiing, skidooing,
ice-climbing, guided hiking and mountaineering. Perhaps most notable of
its activities is the visit to Atka Bay where visitors can get up close
and personal with the 28,000 strong Emperor Penguin colony.
After a long day spent exploring the chilly wilderness of Antarctica,
guests will return to the luxurious confines of the camp where they can
feast on gourmet dishes whipped up by the on-site chefs.