If you love the great outdoors but not enough to forgo a comfortable bed and a shower, glamping is a brilliant alternative to camping. While some glampsite locations can cost hundreds of dollars a night, one company is here to make your glamping vacation as easy, accessible and affordable as possible, and it's called RVshare.
RVshare is the first and largest peer-to-peer RV rental marketplace, so it's a safe and reliable way to rent one of more than 100,000 campers, RVs, campervans and trailers. Each vehicle is verified and insured, plus the site offers payment protection, roadside assistance and 24/7 customer service. Granted a rising 62% of adults would consider renting an RV for a future vacation, RVshare is a no-brainer when it comes to planning your dream glamping trip this summer.
Essentially, glamping stands for "glamorous camping," and it combines luxurious accommodations with the grounding benefits of nature. You still get to hike, swim and sleep underneath the stars, but instead of a tent and a sleeping bag, you can enjoy extravagant amenities like bathrooms, comfy furniture, entertainment areas and maybe even a washer and dryer.
Best of all, when your temporary home is on wheels, you can glamp anywhere you'd like, whether it's the base of the Blue Ridge Mountains, the shores of Maine, the lakes of Minnesota or the wheat fields of the Great Plains.
Glamping is such a popular vacation idea because it's more comfortable than camping but more affordable than a resort or a hotel. Especially if you're planning a bachelorette getaway or a family vacation, you can save a ton of money on your trip — and you can travel and explore new places at the same time. On RVshare, prices start as low as $50 per day, and for eight or more people, the average cost lands between $200 and $300.
It's also convenient and easy to plan, granted you can have your rental delivered straight to your home. (More than half of RVshare's rentals were delivered to travelers in 2022.) On the other hand, if you're uncomfortable driving an RV or you don't have a trailer hitch, you can also have your rental delivered to your campground of choice, such as Disney's Fort Wilderness Resort in Lake Buena Vista, Florida, Camp Margaritaville RV Resort in Auburndale, Florida or Big Horn Mountains in Sheridan, Wyoming – so it's ready for you when you arrive.
Search for top RV rentals based on pickup location and pick up/drop off dates.
Designed for pulling behind a truck or large vehicle, travel trailers are becoming more and more popular due to their affordability and ease of maintenance. While prices start at $50 per day, many of them can sleep up to 10 people. If you're looking for luxury, some units offer surprisingly high-end amenities like full kitchens, air conditioning, heated massage couches, entertainment areas and outdoor awnings.
Fifth-wheelers are towable travel trailers with fifth-wheel hitches. As a result, they're often extremely roomy, but they cost significantly less than a motorized RV. Fifth-wheelers usually come equipped with working kitchens and bathrooms, and some of the higher-end models even offer washers and dryers. Needless to say, they're a budget-friendly but luxurious option for family trips or long-term rentals.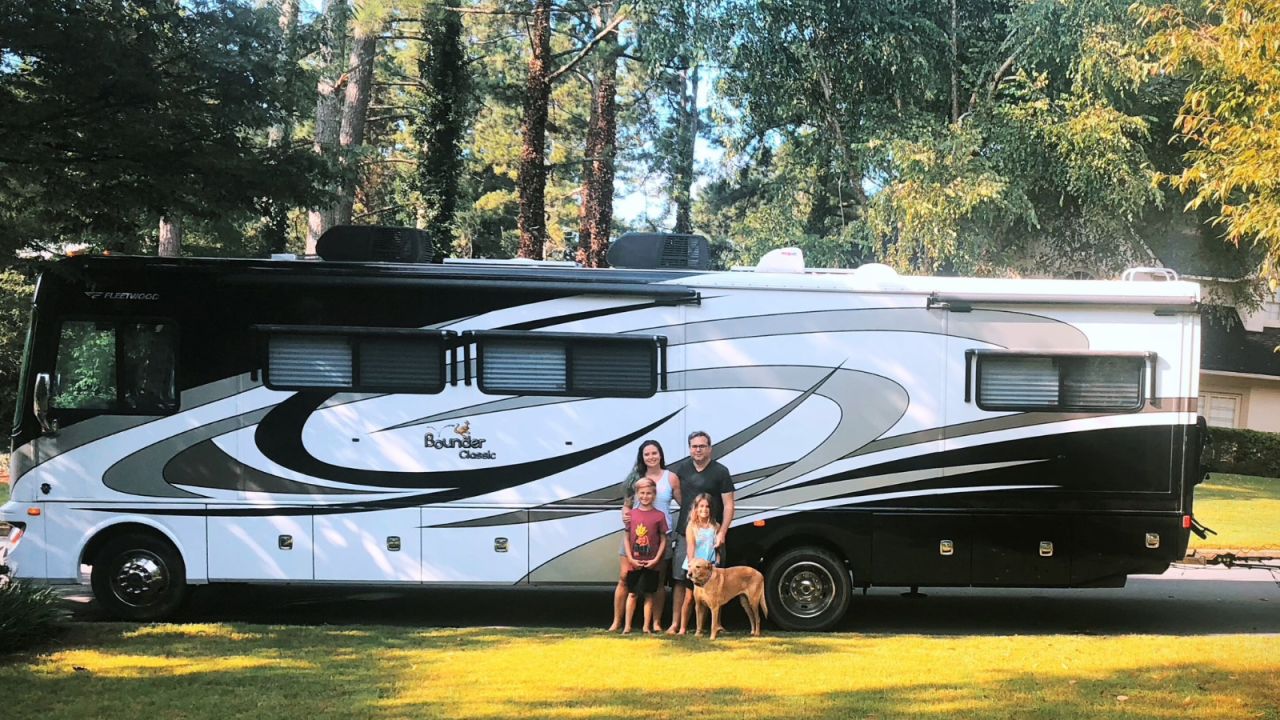 The most luxurious option, Class As have all of the amenities of home. Since the motor is in the RV itself, you can drive your glampsite from place to place rather than towing it. In the back, you'll often find queen-size bedrooms, bunks, convertible dinettes and living rooms. Some larger Class As can sleep up to 10 people at once. These RVs are comfortable for every scenario, whether you're getting away for the weekend or touring the country for weeks on end.
If you're ready to plan the vacation of your dreams for less than you might think, follow the below steps to rent an RV and hit the road.
Step 1: Hop on to RVshare and find an RV you love that fits your budget and your needs. Some are even pet-friendly. (Filter by "destination delivery" to get your RV delivered to your campsite.)
Step 2: Communicate with the owner to organize any add-ons or special accommodations.
Step 3: Choose a campground that allows deliveries. (Be sure to call the campground to double-check and get any access codes or protocol directions you might need.)
Step 4: Get acquainted with your rental by reading any manuals and asking questions.
Step 5: Head to your glamping spot and enjoy your trip; spend quality time with loved ones and reconnect with nature!
Step 6: Pick up any clutter before you leave. The owners will retrieve the RV after you head back home, feeling rejuvenated and inspired.