Whether winter or summer, camping is always an option in Canada, and Airbnb has plenty of rent-a-tent options. Maybe you're an intrepid adventurer wanting to explore Ontario's wilderness or an inexperienced camper wishing to experience nature while still sleeping in a queen-sized bed; here are five camping — or glamping — choices.



Crater Basin Campsite, Faraday, Ont.
Positioned along the shore of a serene two-acre pond, this canvas bell tent has a cozy double bed next to a small wood-burning stove. Amenities include a private custom-built shower house, toilet area, and covered outdoor kitchen with a barbecue and propane fire pit to relax and enjoy the view from the Muskoka chairs.
Guests can explore the trails of the 200-acre property of the Crater Basin Campsite.
"Our platform provides a front-row seat to the beauty and biodiversity only found in Northern Canadian swamps and wetlands," the host states.



Country Glamping, Bonfield, Ont.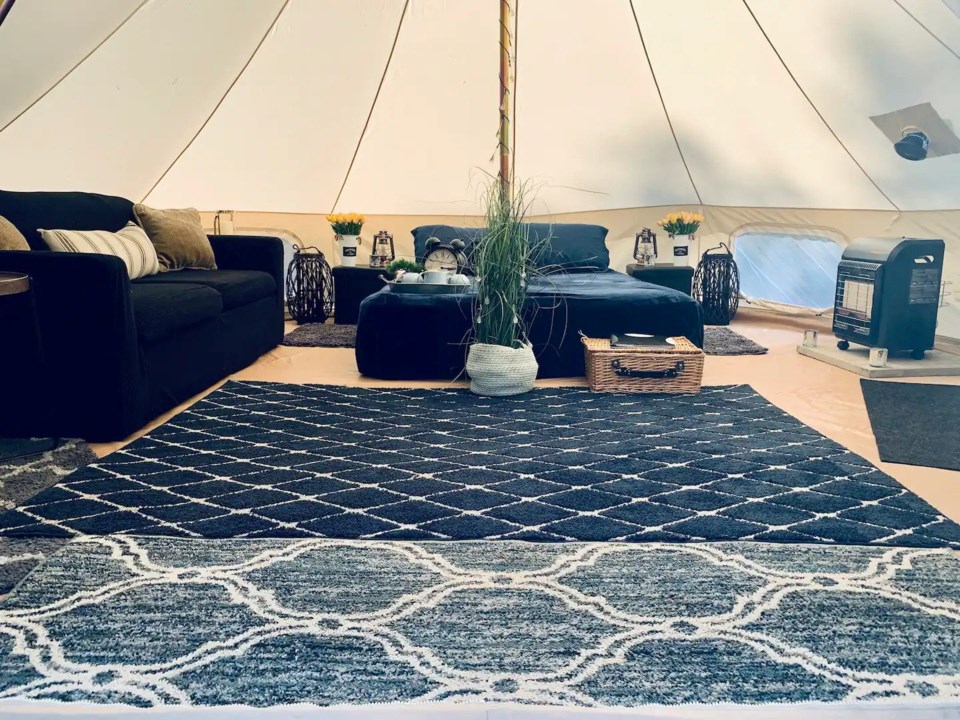 For those who want to experience the wilderness in comfort, this luxurious tent was voted one of the top enchanting rentals in Ontario in 2021. Guests have complete access to the 83-acre property and can choose to go snowshoeing, sledding, hiking or skating. A queen mattress, kettle and French press are inside the beautifully decorated tent. However, its middle-of-the-woods location means no hydro or water.



Skyview Tent Forest Glamping (Winter), King City, Ont.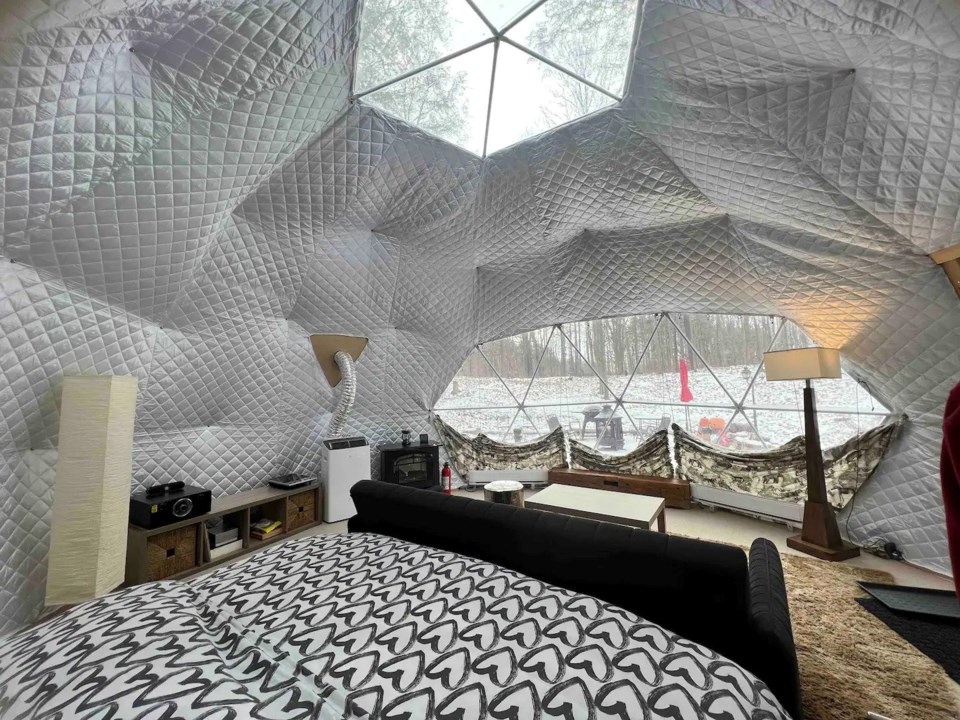 For travellers curious to know what it's like to sleep in an igloo — albeit one that includes a King size bed — this tent is the choice for you. The 400-square-foot space includes a ceiling window where guests can watch the stars from bed. During the day, guests can explore the 15-acre forest where the tent is located.



Bell Tent Valley Campsite, Kaladar, Ont.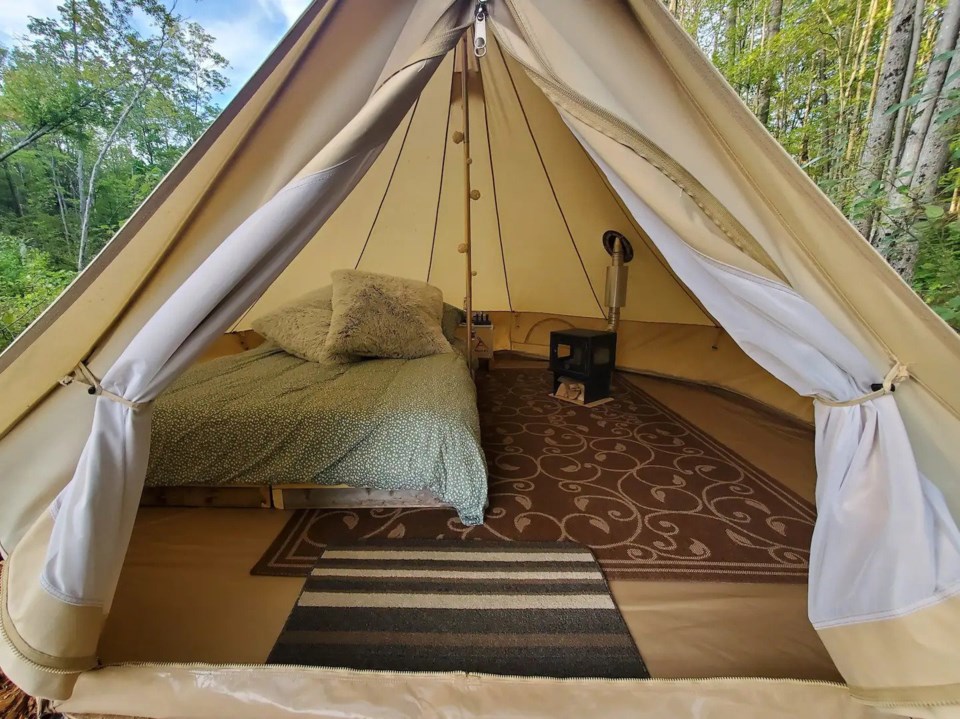 For those looking for a more traditional camping experience, this cozy canvas tent may be the ticket. After a 0.25 hike, you'll arrive at a private campsite that is well suited for any level of camping experience. Sit by the campfire in Muskoka chairs, have an outdoor, private shower and relax into nature.



Private Farm Glamping in an Emporer Bell Tent, Kenilworth, Ont.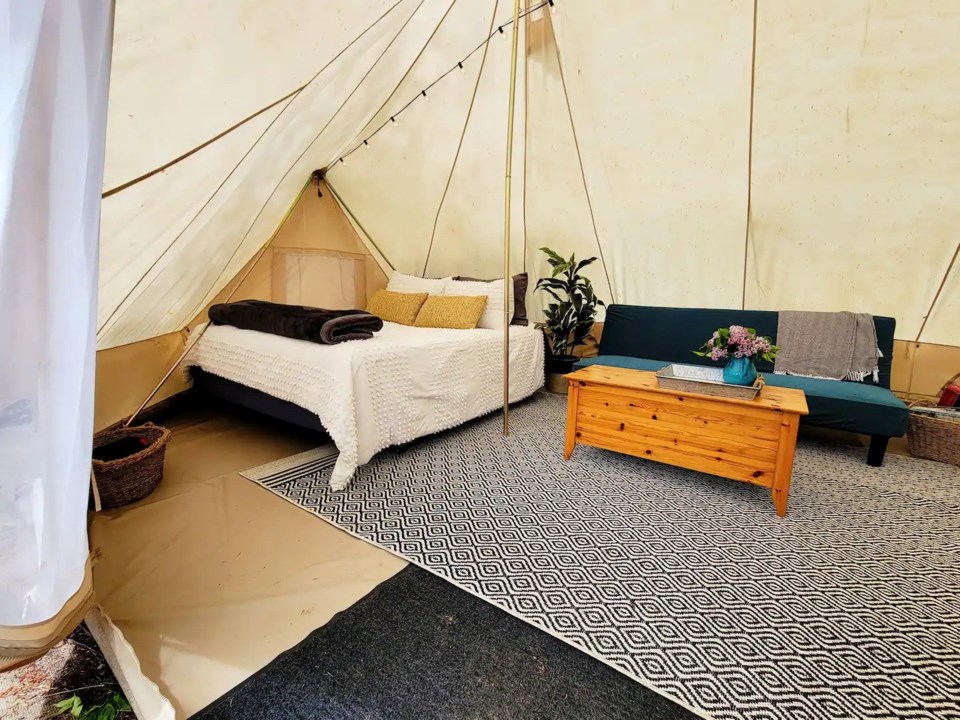 Want to combine glamping with farm animals? Look no further than this listing located inside the woods of a 100-acre farm. Guests will stay in a spacious, European-made Emporer Bell Tent that sleeps up to six guests with one queen bed, two single beds and one sofa bed. The tent is in a private area secluded from the farm, but guests are also welcome to a farm tour to enjoy free-range eggs and more.